Modular manufactured buildings offer several advantages over site built buildings. The first is time savings. In today's fast paced business world of 'I need it yesterday', modular buildings are the best solution in meeting construction deadlines. While Southern Structures, Inc. can't build it 'yesterday', we routinely produce buildings in less than half the time it would take if it were built on site.
Land developers, general contractors and individual property owners developing commercial property will enjoy hassle free construction. We minimize the hassles involved with dealing with sub-contractors since the majority of the work is done in a controlled manufacturing environment with our own personnel.
Our modular buildings are built to the same code requirements as site built buildings with inspections during the manufacturing process by licensed, third party inspectors, similar to inspections at site built projects.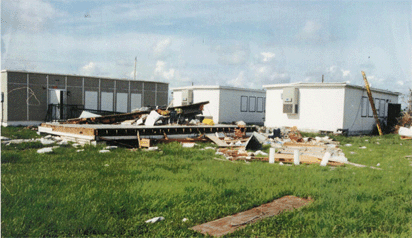 We can build to wind speeds up to 180 mph, which makes our buildings ideal for coastal areas. Our classrooms in Miami/Dade County were still standing after hurricane Andrew (and still are today) while buildings around them, which were built by others, were destroyed.
Installation and any final work on the building, needed to be completed on site, is done by our own field crew. We are the only modular manufacturer in Florida installing 100% of our own buildings with company personnel. Our team takes pride in installing and finishing your project to the specifications you ordered.
Our commercial experience at Southern Structures, Inc. is vast. We started installing hundreds of classrooms up and down the eastern United States in 1961. Since then we have done work for many agencies in the local, state and federal government, as well as the private sector. Some of these projects include a 10,000 sf. daycare center at the Naval Air Station in Key West, FL, another daycare center, 5,000 sf., for the FAA in Jacksonville, FL; over 100 United States Post Offices up and down the eastern United States, a sales/reception center for a residential community in Ocala, FL; a Type IV non-combustible classroom wing addition at Piper High School in Broward County Florida, as well as offices, branch banks, and retail space. View commercial images below. We also manufacture one and two story single family and multi-family homes.
We would be happy to answer any questions you may have or discuss your project to determine if modular is right for you.