Southern Structures, Inc. manufactures and installs custom, one and two-story residential modular homes throughout Florida and the coastal Southeast. Since we build to wind speeds up to 180 mph, we are a popular choice for coastal regions.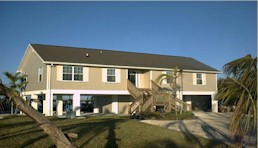 For those unfamiliar with modular, they are not mobile homes. Modular homes are built to the same building codes as site built homes, but in the controlled environment of a manufacturing facility. Inspections are made by licensed, third party inspectors throughout the process, similar to inspections for site built homes.
Due to the ability to concurrently prepare the site and build the home, overall construction time is usually cut in half or more.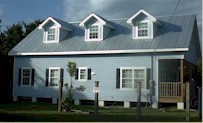 We have a reputation of using quality building materials, such as plywood instead of OSB for roof, wall and floor sheathing and yellow pine instead of spruce or other soft lumber. Because of transportation and setting by crane the strength of the structure is increased with more lumber, fasteners, nails and adhesives, giving you a stronger home.
In a report published by the Federal emergency Management Agency (FEMA), "Building Performance: Hurricane Andrew in Florida," FEMA concluded that modular homes withstood the 131-155 mph winds of the Category 4 storm in 1992 far better than site-built housing.
Once the home is complete in the factory it is shipped to the site for installation where it is usually lifted by crane and set on the foundation. Our field crew secures the buildings and completes any finish work. We do not subcontract the installation, as do most modular manufacturers.
Our field crew takes pride in finishing and delivering a beautiful home to the owner.
Southern Structures, Inc. offers a variety of stock floor plans to choose from. As a custom modular home builder we can modify these plans to meet your specific needs. We can also take your ideas and turn them into your own custom floor plan.